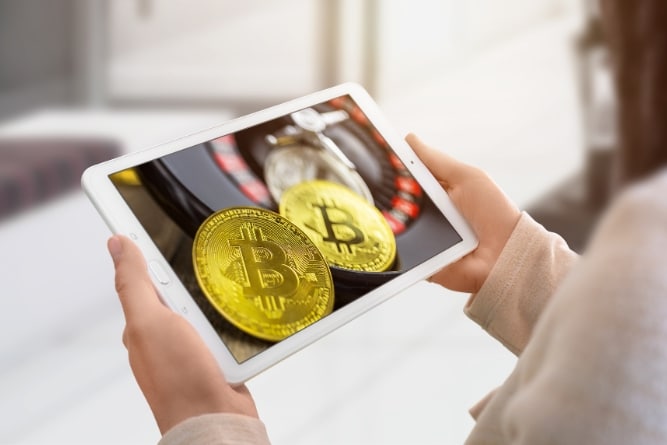 Unlocking the gaming potential of cryptocurrency
Cryptocurrency is a revolutionary financial tool that exceeds the conventional boundaries of money and is based on a decentralized logbook in the modern era. On the other hand, the video gaming industry keeps expanding to integrate new technologies for a more engaging experience. This merger of the two sectors is one of the most critical developments during this time of interactive entertainment when virtual economies and real-world economies meet. The integration provides numerous prospects for players and game producers operating with them on the same platform regarding inventiveness, proprietorship, and finance of the virtual universe. Cryptocurrency and gaming do not exist separately but instead, mutually reshape the realm of digital transactions and interactions.
Cryptocurrency in Gaming: A Match Made in Heaven
The advent of cryptocurrency-based gaming and the birth of in-game tokens have created a new paradigm for currency. It is much more than a virtual currency, making up part of the complicated economics of advanced gaming. These tokens are earned/bought by the players to get equipment and open up the specific contents that come with the experience, which blurs the fine line between monetizing the gameplay and the reality of economic values, which is what comes with true monetizing.
This further amplifies the impression triggered by the occurrence of NFTs (Non-fungible tokens). NFTs are used in gaming as certificates of ownership on some unique game items and collectibles. This could include rare skins, unique weapons, or even characters, all having their own digital footprint that shows these are not counterfeits but original ones available once. This has now led gamers to be able to trade or sell these items openly in online marketplaces, creating a different way of monetizing play time and engagement.
These innovations grow in the decentralized gaming platforms. They have been built using blockchain technology, thus providing an honest, secure, and player-oriented counterpart for conventional gambling schemes. Users have genuine control over their possessions, and there is little or no chance of censorship and real-life earnings. Such platforms can help lower cost development, fight against fraud, and make community-centered governing in the game world. Such a decentralization is no mere technicality, and it is the recognition of players as part owners of the game universe they play in.
The Benefits of Crypto-Gaming Integration
The integration of cryptocurrency into the gaming world has brought forth an array of benefits that enhance the gaming experience:
True Digital Ownership: With cryptocurrency, the players enjoy total claim over their in-game assets. These include tokens and non-fungible tokens, which are secure and transferable across platforms.

Monetization for Players: This enables players to get real value for their in-game accomplishments, trades, and content generation with cryptocurrency. 

Enhanced Security: Immutable and transparent features of blockchain technology reduce hacking and fraud risks for in-game assets and transactions.

Borderless Transactions: Cryptocurrency makes it possible for smooth transactions among international markets by taking out currency conversion characterized by conventional banking techniques. 

Decentralized Marketplaces: Players can conduct trades between themselves within this virtual marketplace environment, thus eliminating transaction costs such as commissions payable to a broker.
The Mega Dice Reviews show the growing enthusiasm around crypto gambling and, especially, how it has improved the gaming experience for millions of players worldwide. Crypto betting and earning add a thrill element to online games, bringing out the vast possibilities involved when the crypto and gambling markets merge.
Challenges and Future Prospects
Crypto-gaming presents many opportunities, but there are also lots of challenges. However, regulatory problems come out at the top since most of the world's governments struggle to oversee the utilization of cryptocurrency when gaming. Unclear laws can scare away investors and innovators who should be protected but not by hampering industry development.
Scalability is another critical issue. With increased numbers of game players, the supporting blockchain technology must also be equipped to manage multiple transactions with virtually no lag or high fees involved. As such, continued refinement in the infrastructure of most cryptocurrencies is critical since their current infrastructure cannot support a large scale for mainstreaming gaming.
Despite these hurdles, the future prospects of crypto-gaming are bright. The industry has the potential to grow exponentially as it leverages blockchain for more than just currencies – think decentralized autonomous organizations (DAOs) for community governance or leveraging smart contracts for complex in-game economies. Such fertile soil for innovation will reinvent how we play, communicate, and derive value in the digital sphere.
These hurdles, however difficult they may seem, are not insurmountable, and in reality, there is plenty of space for crypto gaming in the future. Blockchain does more, though, including DAO for the community's self-governance and Smart contracts for intricate in-game economy. It is ripe for innovation that would wake up the digital landscape in how we play, enjoy ourselves, and create value.
Conclusion
Eventually, it is the fusion of cryptocurrency and online gaming that has started creating an identity of virtual joy. The combination of these features aims to encourage involvement, other means of generating revenue, and open interplay in a gaming setting. It is because of this reason that gaming has shifted from in-game tokens to NFT and decentralized platforms, which give customers full control of their virtual experience. Nevertheless, the uncertainties of government regulations are one of the problems to address, and the second is the scalability challenge. In particular, the future for crypto gaming, specifically about time regulation change and blockchain enhancement, looks rather promising. This signifies that at some point in the future, games will become interesting, and they will affect the world of money. Another fascinating horizon in predicting its crypto-gaming trajectory opens up uncountable chances to shift gamers' gameplay, pleasure from gaming, and worth attached to it concerning the preferred game.